Search Engine Optimisation
We partner with leading Search Engine Optimisation provider Website Optimisers for all our SEO Work. We use a collaborative approach which has worked very well for our clients delivering measurable results.
The SEO industry does have a lot of cowboy operators who will over promise and often under-deliver whilst sending you large bills. Sometimes they'll allow their junior staff to experiment with your site (and at your expense). Rest assured that this will not happen when working with us and Website Optimisers.
Website Optimisers is also a Google Partner meaning they are authorised by Google as an Adwords Specialist.
Here is some more information on Search Engine Optimisation and Search Engine Marketing:
End to End Website Optimisation
What Is It? 
Website Optimisation is and end to end process and part of a larger Digital Marketing strategy rather than something you apply at the end of a website build project.
Website Optimisation incorporates a number of separate activities that flow together to produce a finely tuned an optimised Digital Marketing offering: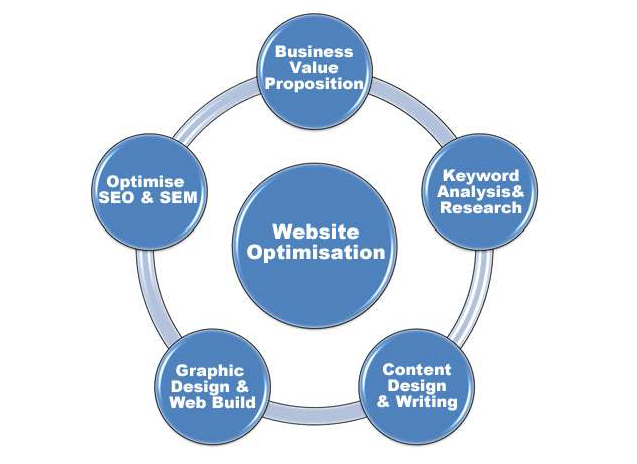 Optimisation involves two commonly used terms: SEO (Search Engine Optimisation) and SEM (Search Engine Marketing):
SEO – Optimisation for Organic Rankings in Google
SEM – Optimisation for Paid (PPC – Pay Per Click) listings on Google
SEO (Organic)
To rank in the organic search results, Google have admitted to approximately 200 factors that are included in their algorithm. It is impossible to know what is in this algorithm, however there are some common focus areas which have been published that affect SEO rankings:
SEO is also broken up into two areas, one relating to the Technical SEO aspects such as Meta Tags, broken links, page not found (404) errors and website health.
The second area is called Content SEO and involves the design of the content for the website based upon keyword and competitor analysis work and ongoing optimisation.
SEM (Pay Per Click or Google Adwords)
Search Engine Marketing involves the creation of an Adowrds account, an Adwords Campaign and writing of adverts with target keywords specified that will trigger the display of your adverts. The key factors that affect an Adwords campaign are:
Good keyword research
Good campaign structure and settings
Good configuration of negative keywords, match types
If you are interested in getting help with Search Engine Optimisation or Search Engine Marketing please contact us.